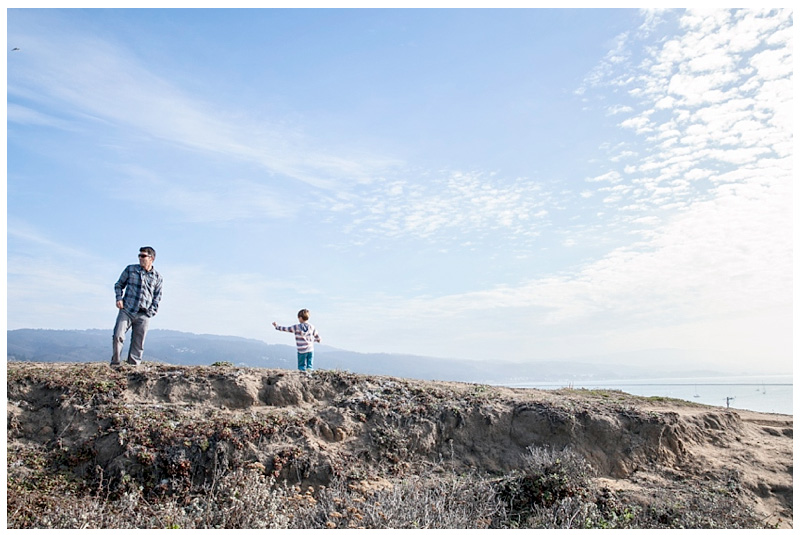 21 Jan

Road Trippin' with my family

To round up 2013 and start off the New Year our family planned a road trip to visit Grandpa John in Bend, Oregon. That meant a LONG A** drive to the smack dab middle of the State. We figured we should make a little excursion out of it and see some cool spots along the way. Or, as my husband called it, our "Brew Tour". Kinda hard to do that while driving, so we left most of that to all of the amazing Breweries in Oregon. Our first stop…. SANTA CRUZ. What a cool little town. I haven't been there since I was in College, so it was nice to see that nothing had changed! Really… looked the same, same cool vibe, same cool surf spot, just a lot wamer this time… weird since it was December!


We checked out the best ice cream shop in town, the boardwalk, and Steamer Lane….where, we have never seen so many surfers out at one spot.

We crashed and back on the road we went… cruising up Highway 1 towards our next pit stop, Half Moon Bay. It was Mason's dream to see Maverick's surf spot breaking… well, it wasn't really, but we checked the surf around there and he got to see the famous ball looking landmark from the movie Chasing Mavericks, so he was happy!
You can't possibly drive 3 days without rainbow loom and Sunflower seeds!

Northbound we go… headed up through San Francisco, with big hopes to hit up Lagunita's Brewery. It was New Years Eve and they were closed…. Big buzz kill for our driver, I mean BIG. His favorite brewery and we got skunked. So, we drove and drove some more, saw some Redwoods, ended up at a random Gem and Mineral shop in the middle of nowhere that had the most random collection of rocks, gems, and artifacts….Did I mention it was RANDOM???      We then posted up for night #2 in Arcata…..Funky funky funky little town, but all of you should stop in at some point. Very nice people. very old hotel with lots of charm, and well…of course they have a brewery!

Oh and it was New Years Eve, so we had to do a little celebrating!!
Our final leg of our drive up wound us up the coast through mountains and rivers, and SNOW… finally snow. The kids were excited, there wasn't much, but enough to make some "yellow snow" and have a quick snowball fight.
And so we arrived in Bend. My entire family was up there… my Mom and Dad had driven up the day before and my sister and her family arrived earlier that day. We did a lot of hanging out, did some puzzles and chilled. The rest of the week was all about family outings. We visited The High Desert Museum, where my grandpa volunteers….went to the Deschutes Brewery for lunch, took a tour of their facility, ice skated, and skiied.
The Deschutes Brewery… wow, is this an experience!  Crazy to see how much beer they can make in one place!!!    If you are ever in Bend, you have to take this tour. …best of all it is FREE, they give you free samples at the end, and they let the kids go.  Perfect introduction to home brewing for the boys 🙂  haha

We ended on a good note. Crux Brewery…..for those of you who like beer, this is the best…too bad they don't sell it in California 🙁 The ride home was quick… well not really if you count 2 full days in the car, but ya know, it was worth it. Great memories, great times. We will definitely be going back soon!
*********disclaimer…. these are mixture of iPhone images and images from my Canon Mk II, for you people that care and can tell a difference!********