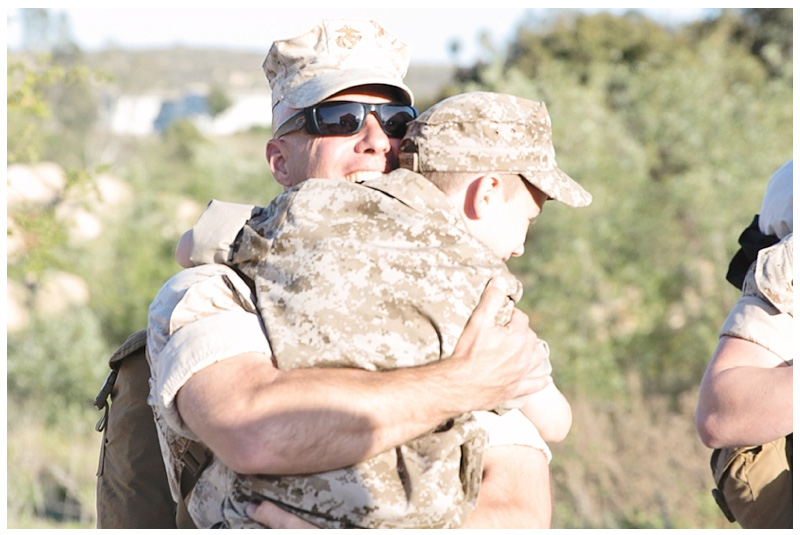 20 May

Welcome Home

In honor of Military Appreciation month, I can think of no better post than this one. For the McCollough family, being deployed is somewhat of the norm. This was Gunnery Sergeant McCollough's third and shortest  (and hopefully last) deployment since they have been married.  He deployed with the 13th MEU on August 22, 2013 aboard the U.S.S. Harper's Ferry.  Their mission was to provide Humanitarian assistance in the event of a natural disaster.  They visited Hawaii, Kuwait, the United Arab Emerits, Singapore, Dubai, Bahrain, and more!    LeeAnne told me that the kids each grew over an inch while he was gone and Christian lost 2 teeth. There really isn't anything more emotional than watching a family reunite. The waiting, the anticipation, the  embrace, it is truly one of my favorite moments to photograph.   Ashley couldn't stop staring and touching her Dad.  She mentioned to me that she almost didn't remember what he smelled like, coming from a 4 year old, it just breaks your heart!   Christian was very serious until he saw his Dad.   He was the first one that went running and I could barely keep up with him to get the initial embrace, it was incredible to see his joy in seeing his Dad.   Thank you McCollough family for having me share in such an amazing day. Cheers for Pete being home and you guys never doing this again!!
….and this is where we waited… and waited… and waited….  like for 4 hours… no joke!    
the boys see the bus!!!    
YEA!!!  he is home.. now let's go get a margarita!
xoxo