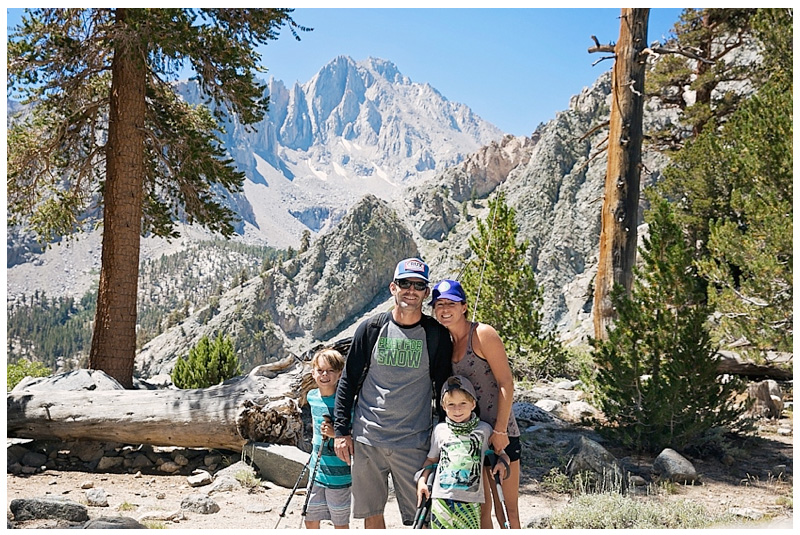 26 Aug

Highway Ride….. up the 395 | A Family Camping Experience

Just about a week before school started, my husband and I thought it would be a GREAT idea to take the kids camping. "Because camping brings families closer together and creates memories." Well that is an understatement! It always seems like a great idea, until you are into about day 3 and haven't showered, slept, or had any alone time! However, that being said, camping to me is like a childs right of passage.  Some of my fondest memories as a child are in the middle of nowhere, freezing my butt off at night, eating junk food, and being FREE. So….we rented a little pop up tent trailer, packed the car full of goodies, and set off on a 4 night excursion up our favorite Californian Highway…the 395.
Miller had all of his protective gear on.. and we rocked out.


First pee stop…having boys does have it's advantages!

Our second stop was this old Mining town called Randsburg. Only 1 mile off the road and super funky and cool. I can't believe I have never been there before. They have an old soda fountain, some shops, and a bar called The Joint. Ya… I wanted to stop there for sure, but they were closed:( Probably a good thing.
And so we moved on to our first nights destination. Onion Valley. This place was incredibly beautiful. The base of camp is at 9200feet up. That is quite a change for our little beach bum lungs.
Yummy camping food.. we went big the first night.. the rest of the nights weren't this amazing, I promise!

And Mason took his opportunity to eat things I won't let him eat at home.  He was in heaven.

Finally relaxing.. phew… wine at 9200 feet is quite delish!

We froze our booties off that night, but woke up to a beautiful morning…
It was a perfect day for a hike  to find some streams to fish and the boys were pumped.  Our great camp host even let us borrow walking sticks and we were on our way up…high… up…….. well, our directions weren't the best, and we never found fishing up in these mountains, but we did learn that our kids our Billy Goats, and rock at hiking.

This rock took a great family pic, right?!?!

We had to find some fish, so on the way out of Onion Valley, we hit up Grays Meadows and caught a few trout.
Night two would take us to Benton Hot Springs. Where is that you ask?? Good question, we couldn't find it and it is so far out in the middle of no where, not even modern technology could tell us where it was! However, we went back to the old days, and asked someone and we arrived…. at probably the most unassuming random and coolest campground I have ever been to. YES… that is a private Mineral Hot Spring tub at our site! Check it out! http://www.historicbentonhotsprings.com/
oh and a shower!!! YEA YEA YEA!!

The area around Benton was once an Indian camp, so they boys had a blast searching for Arrowheads. And we stumbled across a Cemetary that had some McBride's buried there! Did I say this place was random yet?
Off we went to our last stop… Mammoth. Believe me, I was ready to go a town with a brewery and a grocery store! We camped at Minaret Falls and it was gorgeous. So quiet and serene. The boys fished, we went into town and mountain biked, ate out at a restaurant! Now, this is what I call camping:)
The moral to this long family camping blog post is this….. We had a blast! The boys loved it…and we did too.  I am pretty sure I am still doing laundry and smell like a campfire, but that is what camping is all about!    Now time to start planning our next trip!
m*